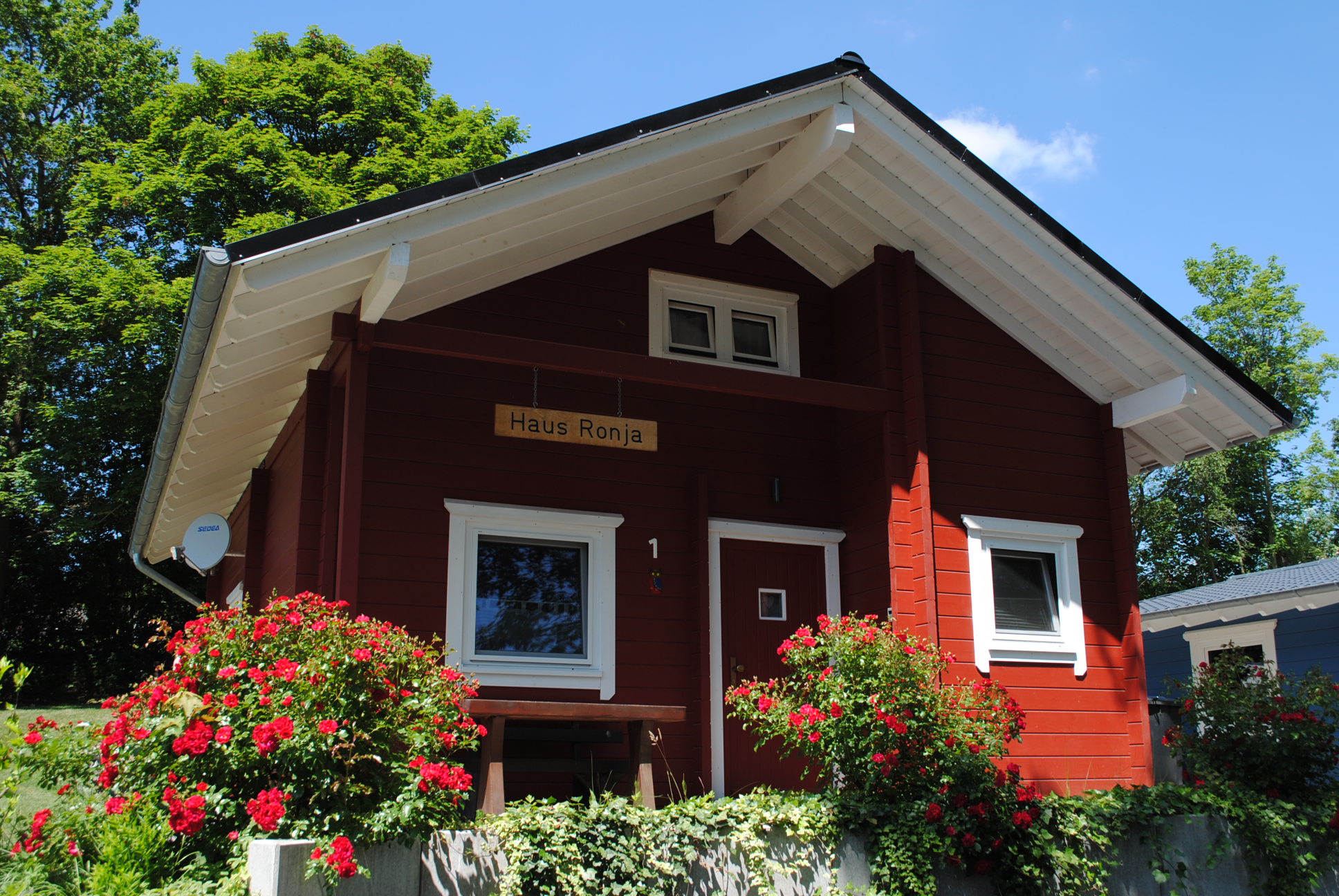 Holiday House Ronja at Eder Lake
We are looking forward to your visit!
Holiday House Ronja at Eder Lake
House Ronja is a Finnish blockhouse.
We built it in June/ July 2014.
On 70 sqm you`ll find everything you`re longing for to spend a fine holiday.
In the living-room you can enjoy the evenings at the fireplace. Firewood is outside there behind the house.
On the same floor you`ll find the bedroom with a double-bed. As the room can be shuttered, you will sleep well and recover soon.
Bed linen will be provided.
The kitchen is fully furnished with an oven, a heard with ceramic hob, a fridge with a small ice box and everything else for preparing and having a nice meal.
You will find a high chair for children and a rollaway in the laundry room.
If the weather is fine, you can have a barbecue outside the house at the open fireplace. Ask for our barbecue bags filled with the meat of the wild animal or of ducks and turkey, which we are breeding on our own. Please order it at least one day before your barbecue.
The bathroom is furnished with an infra-red heating, except from a shower and a loo, of course.
Towels are provided, too as well as towels for drying after swimming in the lake. Look for them in the laundry room, please.
If you need further space for sleeping, there are four more beds in the sleeping area in the loft above the living-room. From there you`ll have a wonderful view of the valley, however, window shutters will guarantee a quiet sleep.
It would be possible for two more people to sleep on the sofa in the living-room.
There are books, games and an information portfolio there for information and entertainment.
In front of the house there can be parked 2-3 cars.
For parking at other places in town or at the lake, which is for fee, we`ve put a parking ticket in the house for you. Be so kind to leave it there when departing.
Booking price
Up to 2 pers. Basic price 90,00 € per day
from 14 days: from the 8th day basic price 80,00 € per day
Each additional person over 16 years 30,00 € per day
Each additional child from 6 years 10,00 € per day
Dog 5.00 € per day
Tourist tax € 0.60 per person per day
1-3 night: short-booking surcharge 60,00 €
Prices incl. 7% VAT
On the day of arrival the cottage Ronja is available from 15.00 clock.
On the day of departure, the holiday home is to leave properly until 10.00 clock.