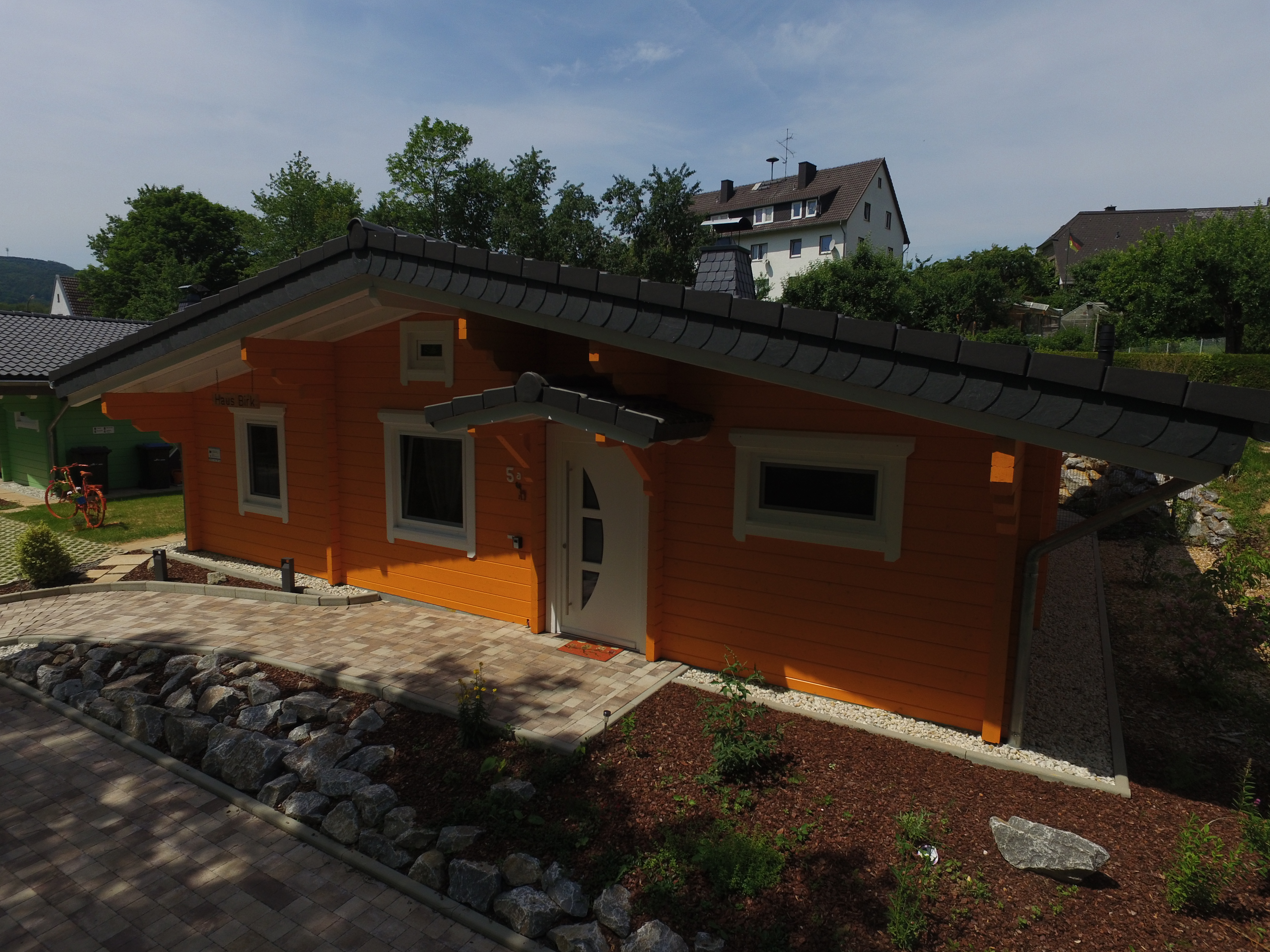 Holiday House Birk at Eder Lake
Our holiday blockhouse House Birk is in Holiday Street at Eder Lake.
House Birk is sunny-yellow painted. It is barrier-free, which means it was built and furnished according to the needs of disabled people with our love and passion to every detail.
Also the sanitary equipment in the bathroom (shower, loo and washing sink) was installed to fully enable them to use it as independently as possible.
The underfloor heating, which can be tempered separately in each single room and a fireplace provide a comfortable atmosphere (firewood is there behind the house).
The kitchen is fully furnished with a fridge, an oven and a heard. Of course you find everything to prepare and to have your meal.
Outside the house you`ll find an open fireplace for having a barbecue. You can ask for our barbecue bags packed with the meat of the wild animal as well as the meat of ducks or turkey, which we breed on our own.
In the house there can stay up to six people. However we will make it possible to put a baby bed or another bed for an adult person in the house.
Allergy sufferers will not have any problems during their stay in our ecological houses.
Hiking groups are also welcome.
In front of the house there can be parked two cars.
Booking prices house birk
Up to 2 pers. Basic price 90,00 € per day
from 14 days: from the 8th day basic price 80,00 € per day
Each additional person over 16 years 30,00 € per day
Each additional child from 6 years 10,00 € per day
Dog 5.00 € per day Tourist tax € 0.60 per person per day
1-3 night: short-booking surcharge 60,00 €
Prices incl. 7% VAT
On the day of arrival the cottage Birk is available from 15.00 clock.
On the day of departure, the holiday home is to leave properly until 10.00 clock.